Dear Esteemed Clients, Partners & Teammates,
Thank you for being with us as we come to the end of yet another year!
In keeping with tradition, here is my year-end message for 2022:
When I first picked up programming at the age of 13, I had a moment of epiphany: when done right, just a few lines of code can touch and transform the world.
Originally US was founded on our determination to do just that — and 2022 has brought us one step closer to realising our dream.
Despite current global challenges – high-interest rates, inflation and mass retrenchment in global technology firms, I am happy to share that Originally US has done well this year! Our growth in 2022 could not have been achieved without you — our clients and our team members.
With your great support, our revenue grew significantly this year, allowing us to drastically increase our headcount (tripled our design team, doubled our project management team and expanded our development team by 50%).
To further improve our team's productivity and help ease us from full work-from-home to hybrid work arrangements, we have also invested heavily in upgrading our office facilities and equipment.
In enhancing our information security procedures and best practices, we have engaged external information security consultants to guide our team towards achieving ISO/IEC 27001 standards in Information Security Management by June 2023. The ISO/IEC 27001 Certification is an international benchmark that assures our partners and clients of our commitment to ensuring high information security standards.
We believe the above initiatives will help us provide better services and value to our partners and clients in the years ahead.
I would also like to take this opportunity to give thanks to our employees, who have punched way above their weight given the challenges this year. I am constantly impressed by the quality of work they produce and count my blessings for having the opportunity to work with such an extraordinary team.
During the early days of Originally US, I understood every technical detail of all our projects. Nowadays, the skillset and knowledge of our team have far surpassed mine, and I find myself constantly learning from them to keep up with their pace. You guys are truly amazing!
To give back to the community this year, we have also established our second award with Singapore Management University's School of Computing and Information Systems. The Originally US Future Information Technology Leader Award is given annually to an outstanding graduating student that demonstrates the potential to become a forward-looking IT leader — to make a difference in the IT industry.
The winner should exhibit Originally US's Core Principles of Innovation, Craftsmanship and Trust by being in the relentless pursuit of innovation, crafting or appreciating cutting-edge technology, and being a trusted figure among friends, families and partners.
To contribute to Consumer Association of Singapore's (CASE) effort to combat scams and fraud, we have also made a donation to the CASE Endowment Fund.
As we wrap up the year, we would like to extend our sincere gratitude to you.
Our achievements for 2022 would not have been possible without your continued support, trust and appreciation.
We look forward to continuing our win-win partnership and seek your understanding for any shortcomings that we may have as we work on serving you better in 2023!
We wish you a Merry Christmas and a Happy New Year filled with health, wealth, and joy!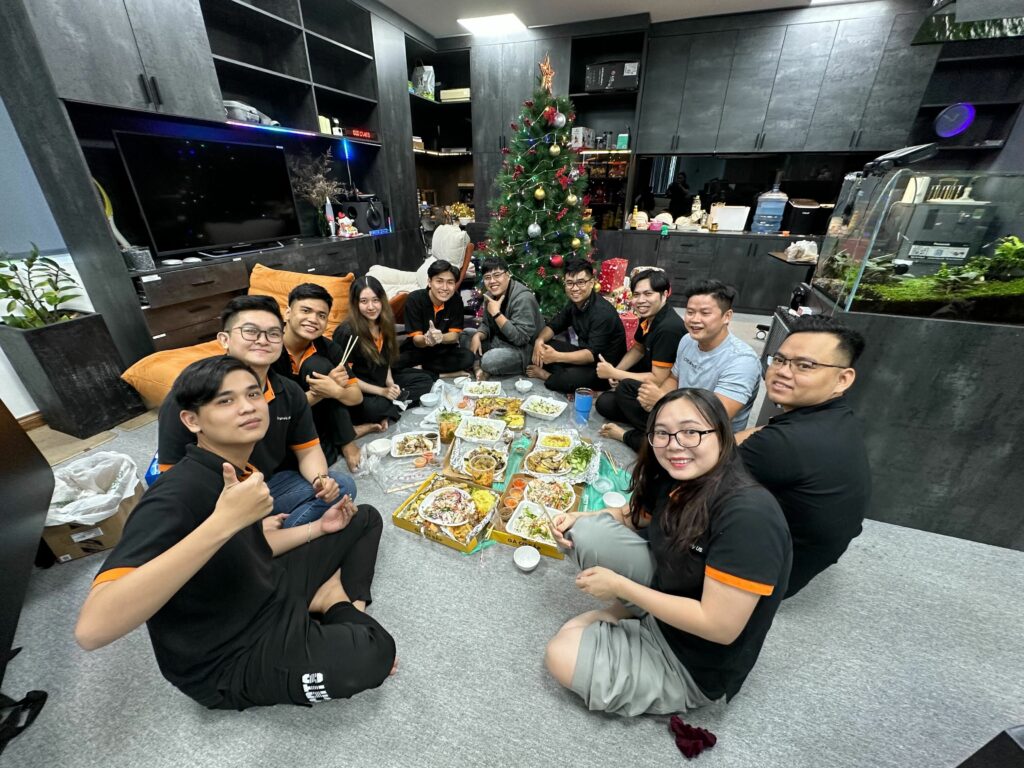 Christmas Team Lunch @ Our HCMC HQ
Yours Sincerely,
Calixto Tay
Managing Director & Co-Founder of Originally US