When people post about their achievements on Instagram, Facebook or LinkedIn, we rarely see the hardwork and challenges they had to go through. Social media perpetuates our feeling of insufficiency and competition. It gives us a very warped perspective on the effort it takes to achieve success.
My bosses (co-founders of Originally US) grew Originally US from a $500 startup to a thriving mobile app business and they speak from years of experience that success does not come easy. But with the right mentors and direction, one can be on track to building a successful business.
So I sat down with our Managing Director, Calixto Tay, and our Chief Technical Officer, Torin Nguyen, to ask them to share their experiences and impart their insights gained from the past 7 years of growing and running a business.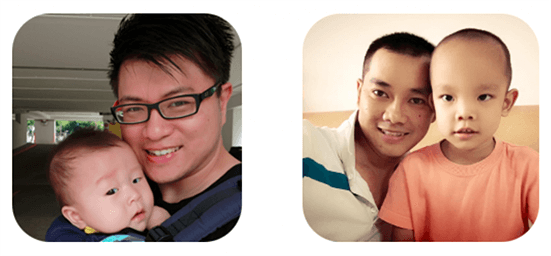 We hope that the tips and insights will help others achieve their dreams as well.
This series will be broken down into three parts:
The initial stages of setting up a business (values, company name, most important step)
The day to day operations and what it takes to keep a business afloat
Lessons learnt and reflections on their 7 year journey from a $500 startup to a thriving mobile app business
The details will be documented in our blog articles, which you can easily access here. If you would like to read them in bite-sized information instead, we will also post them on our socials Facebook and LinkedIn.
Unexpected Beginnings
While Originally US in its current form was only established in 2014, our website, originally.us was actually put up in early 2013.
Originally.us started as a website where Calixto and two other friends wanted a platform and vehicle to offer their software development services. At that time, building mobile apps wasn't on the table as Calixto and his friends only had the relevant skillset for web application development. They were working as freelance programmers and they thought that pooling their resources together would help them land better jobs.
Ultimately, Calixto and his friends did not do much with Originally US because they were too busy with their day jobs (which Calixto chuckles says that it was just "excuses").
To preserve a piece of the company's history, the original originally.us website was archived in 2016 when it made way for a newer design. You can still check our original company website as it was at the end of 2016 here: https://2014.originally.us.
Q: How did you meet Torin (co-founder, CTO)?
Calixto: "Towards the end of 2013, I was pivoting my social marketplace startup (a Carousell competitor) and was looking for a mobile app developer to help build our new app."
"I can code backend, design databases, but I can't do app development (ironic for the Managing Director of an app company, I know). Through one of the Facebook groups I was using, I found Torin Nguyen!"
"Torin has been freelancing for the local tech and startup community after leaving his full-time job and there is where our paths crossed."
Q: Wow, so Torin quit his full-time job to be a freelancer! What prior experiences did Torin have before you met?
Calixto: "At that point in time in late 2013, Torin already had years of experience as CTO in different tech companies and his most recent role was as the VP of Engineering at 2359 Media, a mobile app consultancy that is 28% owned by Singtel and recently acquired/merged/dissolved into NCS, another Singtel owned company."
"While they only gave him a "VP" title, he was in fact the defacto CTO as Torin was the most senior technical person in the company."
"As a Vietnamese Singaporean, Torin is uniquely positioned to be able to bridge the cultural and communication gap between Singapore and Vietnam. He was the one who established 2359 Media's Vietnam offices and created the entire technical team based there."
Q: Torin, why did you choose to quit your full-time job?
Torin: "My principles at work are to deliver the best quality of work in the most efficient way possible. In 2359 Media or any medium to large companies, there are simply too much unnecessary overhead to achieve the kind of result that I was expecting."
"Becoming a freelancer at that point of time was simply a stop-gap solution to figure out a better environment that I want to be in. When I met Calixto in 2014, we were able to create exactly the kind of lean, productive and impactful environment that I was looking for in Originally US."
Q: So how you guys go from working together as freelancers to becoming co-founders of a thriving mobile app business?
Calixto: "At that time, as a freelancer, Torin was covering an entire project technical stack himself, from backend, database, server architecturing, design to frontend, while managing projects and closing new deals with clients. In essence, he is a one-man mobile app company. There are not many in Singapore who can do this."
"After I closed down my startup in March 2014, I asked Torin to please engage me as a freelancer instead and our roles got reversed. We started working on our first client project together in April 2014 and that was how Originally US in its present form got started."
"By May 2014, Torin was included as an official partner of Originally US LLP, our business entity at that time, and my two friends voluntarily left Originally US. One of them went on to become the founding CTO of Keyreply, a leading AI/Chatbot company founded in Silicon Valley and currently based in Singapore."
Q: I'm curious, where did the name "Originally US" come from?
Torin: "We didn't exactly pick our company name, but it pretty much reflects how we do things: "Uniquely us". We do things quite differently from the norms."
"To name a few:
We don't really have meetings for our developers. The way we organise how our developers are seated in office makes scheduled meetings unnecessary as it is extremely easy for them to communicate
We don't use emails internally
We work so fast that we normally go after client for delivery deadline (e.g. for APIs or documentations that we require for development), not the other way round
We have extremely small team with capability of a large team
We have extremely low turn-over rate
Our definition of 'full-stack' development goes all the way down to mechanical and electrical fields"
"Efficiency is one of our highest priorities. Over the years, we keep finding ways to reduce as much overhead as possible. This has been done by developing our own tools to automate mundane tasks and using real-time collaboration tools."
"Quality is another priority. We don't take shortcuts, or 'hard-coding' in technical jargon. We normally build frameworks and pipelines to deal with presented problems in anticipation of future issues unforeseen by clients."
"While the name strongly reflects our company values, there's also an unromantic truth behind the company name:
The name, Originally US actually came out of a good deal offered by shared hosting provider Dreamhost. Calixto had been a Dreamhost customer since he was 15 years old, and while coming up with a name for his freelance website in 2013, he came across a promotion for all ".us" domains (for those who didn't know, domains refers to the website address or URL)."
"I thought that a ".us" domain could be pretty cool because it would be different from your normal ".com" and we could find some words that could make the entire domain name meaningful. After checking for domain availability, I bought 'originally.us' and 'rightfrom.us'," Calixto shared.
"In the end, we decided to use 'originally.us' as our company name and website domain, while 'rightfrom.us' was used as our beta site where we host our work-in-progress for clients to test."
"Well, funny how our company name actually came from a cheap domain name deal at Dreamhost!"
Cliche, but true.
What advice would you give to aspiring entrepreneurs?
Calixto: "For aspiring entrepreneurs, I would say that there are three key lessons that really guided me and shaped how I do business today."
Never give up
"This may sound cliche, but never give up! Both Torin and I are guys who never give up. I have countless startup failures and attempts on my belt and Torin was also involved in multiple startups, many of them ended in failure. The key thing is to make sure you learn from failures so that you can become better and stronger, increasing your chances of success the next time. If you give up, then all your past failures are wasted."
Step out of your comfort zone
"Don't be afraid to step out of your comfort zone and don't restrict yourself on what you can do for your own company. Always ask yourself how you can contribute more."
"My role in the company transformed over time. While I was originally only a backend developer, I forced myself to step out of my comfort zone to meet more people and clients to grow our business. If you asked me, I would never have imagined myself doing sales or business pitches in 2013, because I was a complete introvert. I didn't even dare to speak up in class when I was still in university."
"For Originally US, I could see that Torin was overwhelmed. Since I'm less technically competent of the two (despite both of us having start development when we were 13), I decided to take it upon myself to do sales and business development. This meant doing something I'm totally uncomfortable with, but I hardened my resolve and grit my teeth to do it because I believe this would be good for the company."
"Today, I won't say I'm the best, but I can easily talk to new clients and leads and advise them on their digital transformation using my technical knowledge."
Find your passion
"Find your passion. Torin and I are both passionate about technology and we are driven by that passion. Because of this, we are able to constantly innovate, improve our skill sets as individuals and as a company, and provide value to our clients."
"We don't code for the sake of coding, or take projects for the sake of money. We pick projects that are interesting to do, and we do it for the thrill of it. Although we don't earn big bucks from Originally US, we are happy and excited at work everyday."
Progressive milestones while staying true to your values
Q: How has the company evolved over time?
Calixto: "I believe in being slow and steady in terms of company growth, so over the years we have set various milestones for ourselves."
"Here are some examples:
2014: We want to have our first employee
2015: We want to close our first > S$ 60,000 deal
2016: We want to establish an office in Vietnam and Singapore
2017: We want to close our first > S$ 100,000 deal
2018: We want to hire our first full-time Project Manager
2019: We want to establish our own inhouse design and user research capabilities
2020: We want to own our own office premise in Singapore, be GST registered, and hire our first business development executive."
"In terms of our value proposition to clients, we have actually held steadfast to our founding principles of providing good value-add to our clients. We do not believe in just following client's requirements and doing the bare minimum to check all the boxes. We believe in creating additional value, magic and delight for our clients, often above and beyond what clients have asked for because as technologist, we like to tinker and we are not satisfied until we can deliver amazing results for our customers."
"Sometimes, this actually makes poor short-term business sense, but we love to do it for our clients because we are passionate about what we do."
Most important step in starting a business/company
Calixto: "I think the most important step is meeting the right people and having the right partner who can compliment each other."
"I've always been a firm believer of a two-founder company structure. Some of the most successful companies in the world that I admire are founded this way, even if it may not look like it:
Apple: Steve Jobs and Steve Wozinak
Microsoft: Bill Gates and Steve Ballmer
Sony: Akio Morita and Masaru Ibuka
Netflix: March Randolph and Reed Hastings
If you dig deep into their founding stories, the two co-founders often have differing or even opposite personalities, and they can work in a way that their personalities and attributes complement each other."
"If you would like a look at the dynamics between me and Torin, you can watch how Shawn Pilot and Mark Towle interact in the Netflix show Rust to Riches."
Torin: "When starting a business, it's pretty normal for the founding members to take on multiple hats and overload themselves along the way. Repeat, this is perfectly normal."
"I've personally seen many founders at this stage starting to give up on themselves and beginning to scale immaturely by hiring and delegating to other people. This is where expenses get higher leading to cash flow issues. Companies often fail because they run out of cash, less often because it's bad business ideas."
"When Originally US was in its infancy, I was frequently asked why I wouldn't scale up to handle more projects and revenue. I'd always choose to "scale up" on efficiency rather than scaling horizontally."
"This has always been one of the core principles of Originally US. As an analogy, we don't believe two women can deliver a baby in half the time. Hence, our priority has always been improving our speed and efficiency through better processes, tools and planning, but not by increasing headcount."
Q: Do you observe any differences in the business world between the time you started OUS and now? What are these differences and how do you think it will affect someone who is only starting a business today?
Torin: "We're pretty proud of ourselves how we have handled the pandemic. We see this as the cumulative effect of our slow and steady growth over the years."
"As more and more businesses try to cut costs, simplify processes & reduce overheads, I hope more people will appreciate the way we do things as they see how our efficiency at the core has breezed us through the pandemic without any changes in our day to day processes."
"After the pandemic, it's only right for anyone to start a new business to adopt an online-first strategy to reach out to potential customers."
"More and more existing businesses will require some form of digital transformation strategy to continue to operate more efficiently at lower cost."
Did you find this article useful? What are some topics you would like to hear from our cofounders? Let us know on our socials at Facebook or LinkedIn!
At Originally US, we do not embark on building a mobile app unless we want it to be successful, because your success is also our success.
Looking for a trusted mobile app development company to build you app? Let us discuss how we can help you! Chat with us on Whatsapp today.