You might be looking for a team of strong designers and developers to help your company build a mobile app. The objectives and plan for the app are laid down and that's great. But how do you know which vendor to pick? Development work is niche and very talent-driven—the right team could greatly contribute to the success of your app, but a wrong partnership would cost time, money, and a flopped project. There are general considerations to take into account, but let's dive deep into 4 key guiding factors on picking the best vendor.
1. Browse through your potential vendors' portfolio
This is the most significant and telling criteria: a vendor's portfolio tells a concrete story about their capabilities and highlights their reputation within the industry. It tells you about the success or failures of past projects, and allows you to review what past clients have to say about them. Go ahead and download their apps on the app store and test them out! Note down if the vendor has produced something you appreciate and would want your company's app to look like. Good if many recognizable companies have given their stamp of approval to the vendor, leaving positive testimonials. Chances are, you too would have a smooth-sailing partnership with them. Be wary if you don't see a proven portfolio or no reviews—such vendors could be unreliable, inexperienced, or unskilled.
2. Prepare to talk about budget expectations
You might have found the perfect team to work with, only to realize that both of your budget expectations do not align, making the entire plan fall through. Having a candid talk about cost from the get-go is the best way to ensure that both parties are seriously considering the building of your app. The vendor should discuss specific points with you such as cost for each proposed feature, adding content (words, multimedia, different languages), formatting (landscape, portrait, for various iOS or Android devices), integration with other systems, or design. Agreement on the budget is crucial. You can get a pricing guide through our Originally US Facebook page here. Simply initiate a chat with our friendly bot who will walk you through pricing for your app.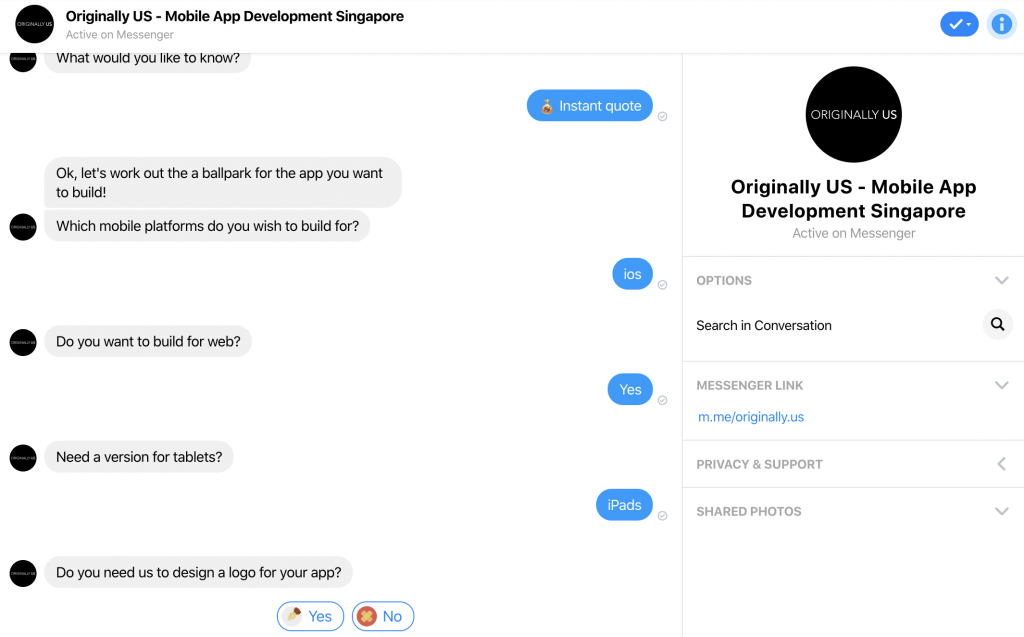 Do be aware that many companies get enticed by vendors offering irresistibly low prices for their services. If it sounds too good to be true, it probably is; be it through hidden costs or shoddy work. Good developers ultimately do not come cheap, so price as a factor should not be the main criteria in choosing which vendor to work with.
3. Ensure good communication frameworks are in place
The best team of developers and designers might build an objectively amazing app, but not one that meets your company's objectives and goals. Input from your end is still required, and thus good two-way communication frameworks such as clearly defined roles, a feedback channel for iterations, and consistent project updates are a must. Your perspective, as the client, should be vital in the app development process. This would be how you ensure that all progress suitably meets your vision of the final product. Keep track of how often your vendor replies to you and is actively providing updates—clear communication is the foundation of a strong working relationship. Where ideas and proposed improvements are freely shared, there is opportunity to build an even better app.
4. Check maintenance and support policies
Finally, your app is launched into the marketplace! However, this is not the end. There's still the need for bugs to be fixed, and potential updates to be released or new features to be added in. Take a long-term perspective for your app and pre-empt these concerns. You could find out the vendor's policy on app maintenance and support, such as how they handle bug fixes or the cost of each new app release. Additional features such as performance monitoring or keeping the user interface updated is essential in remaining relevant to changing app-users and winning enduring success. Maintenance is not a standalone final worry but actually a pivotal one: having proper support has great benefits including better user experiences, remaining competitive and upholding a positive brand image, while achieving economic returns in the long run. Don't neglect this and remember to check in on your vendor's maintenance policies!
While the choices in the app development market might overwhelm you, use this guide to aid you in making an informed decision. Your app and achieving its vision are heavily determined by your vendor, so do your research! We, the Originally Us team, appreciate design and development as niche skills with the potential to facilitate the building of wonderful, value-adding products. An example is the app we built for the Consumer Association of Singapore (CASE): Price Kaki. It delivers value to the Singapore community by comparing the prices of groceries, household items, and hawker food. This empowers everyday customers to be savvy in discovering alternatives.
We know that with capable people come solid products. If you want to find out more about picking the right mobile app development agencies along with a memorable case study, do read our article on it here. Pick wisely and if you do consider us, rest assured that you (and your app) will be in good hands.