With our design accepted by our client CASE, we moved into the next phase of our project: Development.
Like many other mobile app development studios in Singapore, we no longer do the bulk of our development work here. There are multiple commercial and economic reasons which is not in the scope of this case study—that we might later write about. Notably, we manage to bring down development costs, which then allows us to pass this cost savings to our clients. However, there is a crucial difference between our approach versus that of other studios.
Most studios simply engage offshore centres that use cheap, junior, low-quality developers from just S$100 a day. This results in apps that crash frequently, are unreliable, and that suffers from a host of performance issues (we get tens of unsolicited emails from such offshoring centres daily).
At the same time, these centres are purely manpower farms that do not care about improving the skillsets of their developers, or creating cultures that retain them. As such, turnover rates are high. When developers working on your project leave, you get hit by unnecessary delays that are hard to explain to your management. Additionally, junior developers fresh out of school often lack the experience when it comes to building secure apps and server interfaces—resulting in data leaks and hacks.
We at Originally Us take pride in our work and believe that quality must take center stage in anything we build. From this principle, our Chief Technology Officer (CTO) Torin Nguyen, a Vietnam-born Singaporean, established our office in Ho Chi Minh city. He recruits, trains, and manages our very own developers.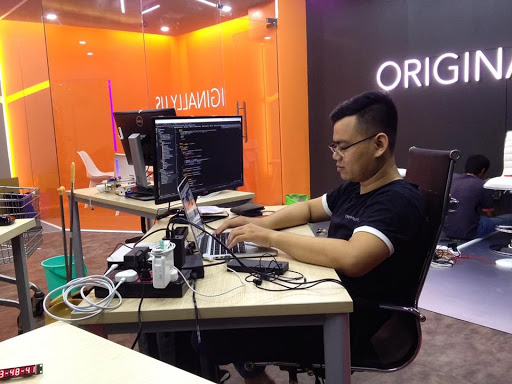 When CASE engaged us to develop Price Kaki, they definitely did not want the work outsourced to some low-cost offshore centre. They paid for, expected, and deserved our 100% in-house talented developers who were carefully handpicked and groomed at our Ho Chi Minh office. These are developers who can produce top-grade workmanship that clients who have placed their faith in us deserve.
Even though we are separated by two hours by flight, we work with our Vietnam team closely as if we are in the same office. There are no communication lags or challenges. This is thanks to our CTO Torin who is fluent in both Singlish and Vietnamese, removing any communication barrier. At the same time, we engage English teachers for our developers, a long-term stance that improves all channels of communication between both offices.
With development completed, we move on to Internal Testing, Quality Assurance (QA) & User Acceptance Tests.
An integral step that low-quality mobile app development studios neglect is quality assurance. For Price Kaki and all other projects that we handle, our project manager in charge takes ownership of QA and testing.
Armed with a team, our project manager tested Price Kaki on a large number of iOS and Android devices, ensuring maximum compatibility and that all features worked correctly across different phones. After concluding internal testing and QA, we conducted user acceptance testing sessions at CASE to ensure that they too were satisfied with our deliverables.
Finally, then, could we let Singaporeans enjoy the fruits of our labor! It was time for the Pilot Launch.
Trying to launch Price Kaki for the entire nation at once was a huge challenge logistically. Technologically, the mobile app and system were ready. However, it wasn't trivial to ensure nation-wide coverage of hawker and grocery data.
Hawker food pricing data presented the largest challenge to us. While it was possible to retrieve grocery prices from key supermarket operators, there simply wasn't an existing repository of hawker food pricing data for all 6396 hawker stalls across 116 hawker centres in Singapore.
We could only do it the hard way—sending out scouts to all hawker centres in Singapore, painstakingly noting down how they price their food. This exercise was something that could take months. Due to this and various other reasons, CASE decided that we would pilot Price Kaki in 3 key town areas first: Tampines, Jurong West, and Toa Payoh.
On 10th September 2019, the results of months of work was announced by Dr. Tan Wu Meng, the Senior Parliamentary Secretary for Trade and Industry.
Two weeks later, on 28th September 2019, Price Kaki was made available for download in Singapore.
Stay tuned for the final part of our case study.
OUS is awarded as one of the top mobile application development agency in Singapore.